STAR (Steps to Active Recovery) is a transformative Christian charity dedicated to promoting awareness, providing support, and empowering individuals affected by addiction, compulsive behaviors, and harmful habits.
At STAR, we firmly believe in the power of community, compassion and faith as catalysts for healing and restoration. Through a range of delivery, including educational programs, support networks, and resources, we strive to create a safe and inclusive environment where individuals can find hope, discover their true identity, and embark on a journey towards active recovery.
With a holistic approach that integrates faith, evidence-based practices, and the power of personal testimonies, STAR is committed to empowering individuals, equipping communities, and fostering sustainable life transformation. Join us as we walk alongside one another, embracing God's power, and nurturing a future where freedom, fulfillment, and abundant living are within reach for all.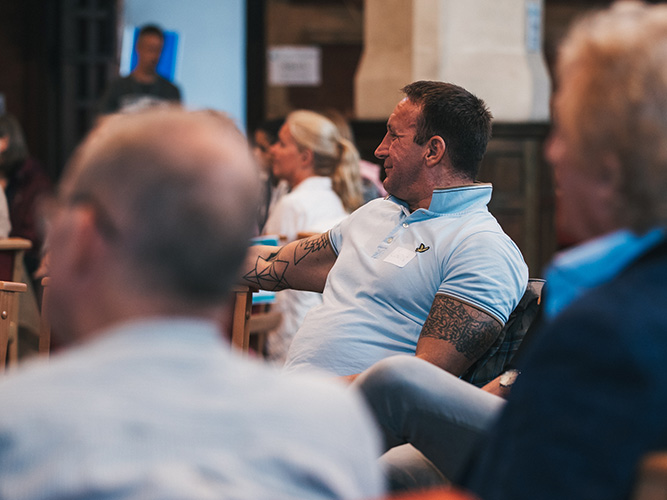 To give churches confidence to deliver recovery ministries safely meaning churches can effectively help those affected by addiction.
To equip and support churches to become STAR-approved.
To offer a unified community approach which helps to break down fear and stigma.
To offer a clear standard of support which is nationally recognisable for those wishing to access recovery services.
STAR aims to bring a recognised standard of support for those in and those affected by addiction, compulsive behaviours and habits.
STAR encourages collaboration between churches and organisations to build recovery supportive communities.
STAR confronts a community issue with a community approach through effective collaboration. Utilising the biggest volunteering resource (namely churches) and providing volunteers and staff with the understanding, training and professionalism for working alongside all people impacted by addiction.
STAR provides expertise from professionals familiar with recovery services, as well as ensuring certain practice criteria has been obtained either as an individual church or organisation, or a network of churches working together as a community.
We want to see churches across the UK and beyond reach people affected by addiction: ultimately restoring hope by improving physical, mental, emotional and spiritual wellbeing. Here are our STAR values:
Believing in transformation
We are passionate about seeing people set free from addictions, compulsive behaviours and habits, regardless of their socio-economic status.
Bringing Hope
We believe there is always hope and that people can be set free from the stigma, shame and fear that accompanies addiction. We are committed to nurturing communities so they can grow in their understanding of addiction issues, and their level of belief in their ability to be part of the solution.
Building community
We advocate partnership working and approach addiction recovery from a community perspective: working with statutory and faith-based organisations. We are passionate about good communication, collaboration and building community. Additionally, we are ecumenical in our approach so that all churches can get involved.
Boosting confidence
We strive to provide a high quality, professional, yet personable experience for all involved in recovery support. This is realised through equipping and educating all stakeholders. STAR approval quantifies a consistent standard of criteria and practice that must be met. This gives everyone confidence in the organisation that carries this recognition.
Broad and inclusive
We look at the whole picture. Addiction support includes the person with addiction; their friends and family; the wider community; plus the staff and volunteers involved in recovery support services.
Emma Heath is the visionary founder of STAR. With a deep compassion for those affected by addiction and a strong desire to make a lasting impact, Emma embarked on a journey to establish an organisation that would bring hope, support, and transformation to individuals and communities.
Drawing from her personal experiences, Emma recognised the power of faith, community, and comprehensive recovery services in fostering lasting change. Her unwavering commitment, leadership, and tireless efforts have been instrumental in shaping STAR into the thriving charity it is today.
Emma's passion for empowering individuals to overcome addiction, coupled with her dedication to promoting awareness and standards of active recovery, are a guiding light in our pursuit of creating a future where lives are transformed and individuals find freedom and fulfillment.
There are many organisations across the UK doing great things to help people in addiction. But they're not always working together. And often, a great initiative runs out of steam and disappears because its organisers are struggling to cope with all the demands and pressures that are being put upon them.
This is where STAR comes in. With a personal story of recovery from addiction and six years of experience in helping to run almost 20 Recovery courses at local churches, STAR founder-director Emma Heath spotted a growing problem. And she became more and more determined to do something about it.
"I see so many great things starting up around the UK. But too often they disappear because they're not sustainable. Churches are either not getting the support and training they need, or they're not collaborating with other services and organisations in their local area, or they're simply overwhelmed by the need on their doorstep. People can't work in silos – especially in the field of addiction and recovery. It's all too hard."
STAR is about changing the culture that exists around addiction services. Across the UK, we want to have volunteer-led Recovery hubs that are brilliantly run by expertly-trained personnel who are getting all the advice and support they need to keep going.
In the future, people affected by addiction will choose to go to a STAR-approved venue because of its reputation for being safe and trustworthy. It'll be a place where lives are being changed. Every hour. Every day.
Canon J.John interview
Emma was interviewed by Canon J.John about overcoming alcohol addiction.
Listen to her story or read it in her own words below:
"My name is Emma Heath. After 17 years of battling alcoholism and eating disorders I despised myself and had many times where I wanted to give up, I started on an addiction path at the young age of 11 where anorexia and alcohol became the norm. There are so many horrific stories of where addiction took me, from being kept hostage in a foreign country to being on probation for drink driving. At my worst, 15 years ago, I was drinking on average 2 litres of vodka a day and I didn't want to live anymore, death seemed appealing.
However, 15 years ago my journey took a dramatic and miraculous positive turn. Through reconnecting with my faith and wonderful people supporting and encouraging me, I have been able to find freedom from addiction and completely transform my life. The added bonus is that I get the privilege of being able to give back and help people today through dedicating my work and passion to a huge vision of changing a culture around addiction.
I am so grateful for my personal story of recovery from addiction to freedom through faith, and I now know where my hope lies! Over the past decade I have led groundbreaking recovery work in my home town of Bournemouth and nationally. I love to see churches and organisations working together to bring the Recovery Course and other Christian approaches into the heart of the community and to look at addiction without the fear and stigma that is so often apparent.
My drive and passion comes from my own lived experience knowing that there is hope, having never intended to work in the addiction field, yet I now get to promote Christian addiction work all over the UK. I love public speaking and openly share my story in national newspapers, radio, hosting and directing two TV series on TBN UK and spoken at conferences and events. This amazes me as before finding recovery, anxiety gripped me and I couldn't be in a room with more than 2 people without fear of panic attacks. I believe in being obedient to God's calling and have stepped out to pursue this vision, making a dream into a reality, with the ultimate aim to help people find freedom from addictions.
I also had the privilege of doing CPR on my mother 11 years ago when she had a cardiac arrest in front of me and helped her back to health and promote first aid to charities, having been the face of the Red Cross in a huge campaign to help people know about basic first aid. Lizi has now written a programme called the Recovery Support Group that helps people affected by addiction.
For the past nine years I have worked for several Christian Charities, volunteered and pioneered a large addiction ministry within a local large church and helped with chaplaincy roles. I came to be more directly involved in Christian recovery after becoming the National Partnership Director and Trustee of The Recovery Course.  I saw a need to help churches and communities to holistically tackle addiction so that they are equipped to deliver support in this area of need.
In my roles, I am proactive in setting up courses in churches nationally in the UK and as far as Australia. Over the past 9 years in Bournemouth, I have facilitated the largest recovery course known in the UK, having over 1000 attendees over the years (which is unheard of for a course of this kind) and pioneered a new model where churches unite to run this course week after week for the whole year.
This work led me to start a local Recovery Project for the charity Faithworks in Bournemouth which has really taken off. In this region alone in Dorset, I work with many wonderful churches to embed and support addiction ministries, having established network meetings, recovery courses, 1-to-1 support and detox programmes. I was surprised to be shortlisted out of 64,000 nominations for the ITV National Diversity Awards for the UK's Positive Role Model for Faith, Race and Religon which recognised my contribution to this vital work.
Through working with countless churches and organisations wanting to run addiction work and from the success of the Faithworks Recovery Project and seeing first-hand the overwhelming need for greater consistency and collaboration this is where STAR (Steps To Active Recovery) has been born.
I believe that we have the potential to change the culture in how volunteers are mobilised to make a significant impact upon the crisis of addiction.
I think back to 15 years ago when I was hopeless and saw no way out of such a dark time, yet I know through God and good people's support anything is possible. I also believe that the church has a vital part to play in this transformation of society around the ever-growing epidemic of addiction.
I'm determined to enable more and more people to access support and find well-run courses and support across the UK. To help people see that there is always more light than darkness, always more light than despair. That's what a STAR venue will be. A beacon to help people turn their battles into blessings.